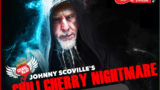 Johnny Scoville's Chili Cherry Nightmare
$16.00
Welcome to Johnny Scoville's Chili Cherry Nightmare.
Do you have what it takes to finish this challenge? The Chili Cherry Nightmare is three times hotter than the MOAB!
Dark Chocolate infused with Carolina Reapers and Black Cherry Chunks! If it's worth doing…. It's worth over doing.
This is a 15 minute challenge. The challenge rules:
1. No drink at all for the entire challenge.
2. You have 10 minutes to finish the whole bar. You CANNOT begin the afterburner until the 10 minutes ends.
3. You Must endure a 5 minute afterburner to complete the challenge!
~WARNING~
Please be advised this bar is hot, do not use as a prank.
Do not share with someone who has a low tolerance for hot and spicy.
Keep out of reach of small children and pets. Do not eat while pregnant.
** Please read Spicy Chocolate Disclaimer below **
---
We offer cold pack shipping with all products.
Click here to add it to your cart. 
---
Copy and paste this URL into your WordPress site to embed
Copy and paste this code into your site to embed